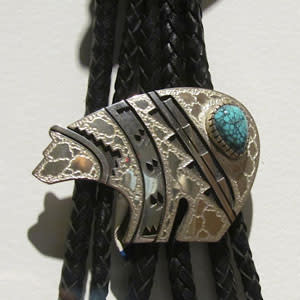 An exciting new exhibit highlighting the bolo tie opened last Saturday at the Albuquerque Museum of Art & History in Old Town. The display, Native American Bolo Ties: Vintage and Modern Artistry, features nearly 400 stunning examples of New Mexico's very own version of the necktie. The collection travelled to Albuquerque from the Heard Museum in Phoenix, Arizona.
The bolo tie as we know it today is a distinctively Southwestern phenomenon that combines creativity and fashion into a wearable piece of art. Bolo ties originated here in the Southwest evolving from a tradition of Victorian neckwear and scarf slides. Their popularity continued to grow with the help of television and movie personalities in the 1940s.
According to the museum: "Bolo ties, New Mexico's answer to the formality of neckties and bowties, convey to the world that we are fashionable and interesting; professional but relaxed." As such, it is no wonder that an act naming the bolo tie as the state's official neckwear passed in 2007. 
The bolo ties displayed in this stunning collection are created by American Indian jewelers and silversmiths and are a part of the Hear Museum's permanent collection. The exhibit boasts descriptions of the pieces, as well as information on the history and culture that go hand in hand with this iconic fashion item. Editor's Note: A catalogue titled Native American Bolo Ties by exhibit curator Diana Pardue with Norman L. Sandfield, accompanies the exhibit.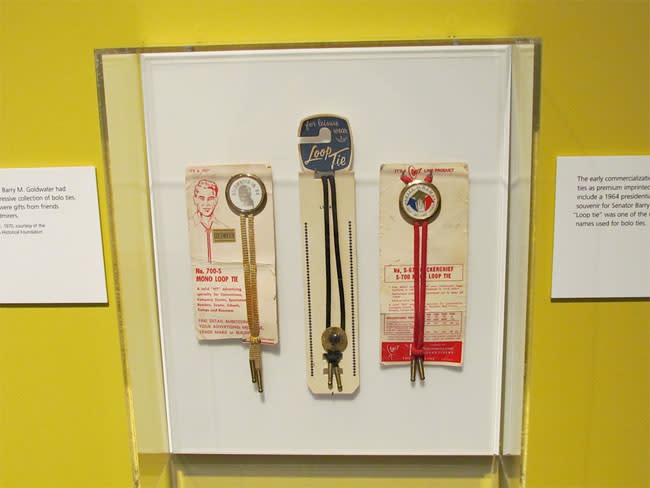 The exhibit will be on display from Saturday, June 28 until Sunday, September 21. Additionally, several public programs will take place while the exhibit is up: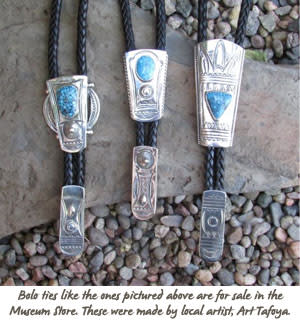 Saturday, August 2 from 2-5PM:
The museum will host "Family Fun Day: Bolo Ties" featuring various performances and activities that the whole family can enjoy. At 3PM, storyteller Sunny Dooley (Diné) will be on hand telling "summer stories" about the birds of summer. 
Thursday, September 18, from 5-8:30PM: 
Enjoy a gallery talk by jeweler, Eugene Nelson, whose work is on display at the museum, along with live music in the amphitheater, and the chance to make your very own bolo tie.  
Both programs are free and are sure to offer a great amount of information about the bolo tie, as well as a fun time!
The photos above were taken as part of the Native American Bolo Ties: Vintage and Contemporary Artistry exhibit. The exhibition was organized by the Heard Museum, Phoenix, Arizona, and made possible by the Virginia M. Ullman Foundation.