A cheesy, gooey, messy and delicious burger is part of many food-lovers' travel experience. In Albuquerque, you're going to find something completely unique atop that juicy patty – green chile! This New Mexico staple ingredient finds its way into a plethora of American favorites including the cheeseburger, macaroni and cheese, pizza, and much more! Here are some of the best places to find a mouthwatering burger in Albuquerque. The green chile is up to you! 
Laguna Burger
The Establishment
This cheeseburger has a cult following and once you bite into this juicy rendition, it's easy to see why. The establishment began just outside of Albuquerque on the Historic Route 66 at Laguna, N.M., inside the 66 Pit Stop. Laguna Burger die-hards would make the drive from Albuquerque just to enjoy their favorite local burger, but now they don't have to! The joint opened a new location in Albuquerque on 12th Street, making this ABQ delight even more accessible.
The Burgers
If you're looking to step into the full Laguna experience, you just HAVE to order the original Laguna Burger, a classically dressed burger topped with Hatch green chile. If you are not as hungry or are a little sensitive to spicy food, they offer a series of "Wimp" burgers that either come with a smaller meat patty or less spicy toppings. Don't forget the side of fries!
*Takeout available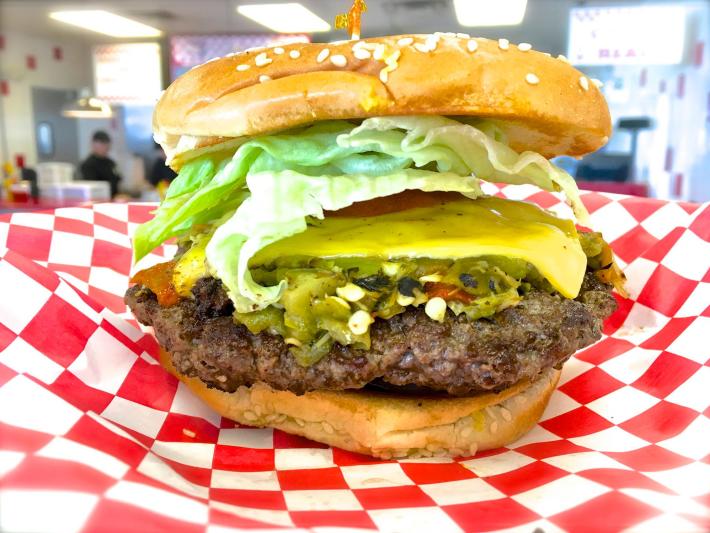 Blake's Lotaburger
The Establishment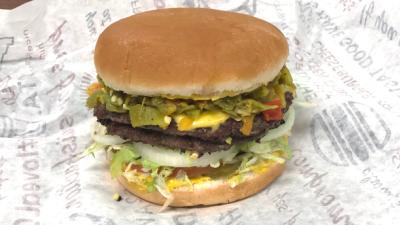 Talk about an Albuquerque classic! This New Mexico chain offers your burgers fast, without compromising any quality. Each location features a no-nonsense, simple, clean design with white interiors and blue and red accents. It's hard not to feel a sense of American pride when sitting down with family at any Blake's location. 
The Burgers
An astonishingly high number of ABQ locals claim that this burger chain puts out the BEST burger in the city! Watch your beef patty being cooked on the griddle with this open kitchen concept and then witness the mindful burger crafting as they pile it high with lettuce, tomato, onion, mustard and green chile (and cheese, if you want it!) before sandwiching it between two buttery buns. Loyal fans say this burger exceeds the flavor of In-N-Out, White Castle and many others!
*Takeout and drive-thru available
Holy Cow
The Establishment
This EDO location gives you a great vantage point to enjoy several of Albuquerque's great neighborhoods and offers a modern but comforting environment to order a beer, burger, and milkshake with some of your favorite company. Sit on the patio during the summer for a warm, lively ambiance. 
The Burgers
Do yourself a delightful favor and order the Fried Avocado Burger. This larger-than-life burger comes piled high with bacon onion jam, slaw and a burger's best friend, Velveeta cheese. Order one with a Guinness milkshake and thank us later! 
*Takeout available
Fork & Fig

The Establishment
While this restaurant in Albuquerque's Northeast Heights might be small, the atmosphere provides a cozy, comfortable spot to catch up with a close friend or family member and enjoy a great burger together. Located right next to a brewery, you can have your beer and eat your burger too! 
The Burgers 
Unique toppings are the name of the game at Fork & Fig. Try the Umami Burg for something a little different! Mushrooms, yuzu pickled shallots and raclette cheese tops this burger. A lamb burger has kool aide pickled pineapple! If you're feeling a little less adventurous, you can always get a trusty green chile cheeseburger.
Toltec Brewing
The Establishment
One word – brewery! This top-notch cheeseburger comes with a fresh brew of your liking and is served in a relaxing brewery setting in Westside Albuquerque with a patio to enjoy during Albuquerque's sunshine. Try a pint of the Cactus Warrior, an easy-drinking wheat beer brewed with Blue Agave Nectar, which washes down a bite of burger perfectly. 
The Burger 
There is one must-try burger at Toltec called The Royale. Ask the chef and notable local, Chef David Ruiz, about this burger and he'll tell you it's made with a patty that includes a half-pound of New Mexico brisket and 25% crimini mushrooms, and is then piled high with heirloom tomato, New Mexico green chile, aged white Tucumcari cheddar, fried egg, ancho and herb mayo, and bacon! You might need to unhinge your jaw to enjoy this beast. Did we mention that the burger is also the first place winner of the James Beard Foundation Blended Burger Project?
Sixty-Six Acres
The Establishment

Located across the street from the Indian Pueblo Cultural Center, this hip yet comfortable restaurant features a menu that carries everything from a Korean BBQ Chicken Bowl to a Vegetarian Curry Flatbread. 
The Burger 
This green chile cheeseburger comes out just like you'd expect – a toasty, buttery bun, a sizeable patty cooked just to your preferred temperature, and all or none of the toppings you'd like. Bonus – the fries are delicious and perfectly salted! 
*Takeout available
Steel Bender Brewyard
The Establishment
This #TrueABQ brewery rests in the beautiful North Valley of Albuquerque and provides a perfect vantage point for the Albuquerque International Balloon Fiesta if you happen to visit during the first full week of October! Local patrons come here to enjoy great beer AND fantastic food alike. 
The Burger
The Steel Bender is the burger to order here. The Bender features your choice of cheese, bacon, fried egg, and a fried Bueno green chile strip with Steel Bender sauce. If you are vegetarian or vegan, order the Bender made with a plant-based Impossible Burger patty and leave off the cheese, bacon and egg.  Either way, this burger promises to leave you astounded, full, and very happy. This burger was the winner of the 2019 Edible Magazine Albuquerque Green Chile Cheeseburger Smackdown!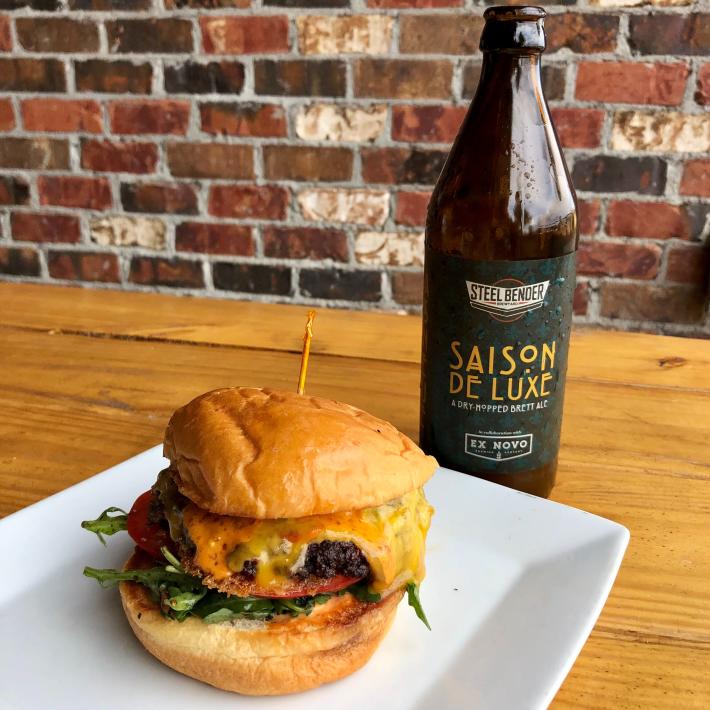 The Acre
The Establishment
Quaint, quiet, and comfortable would be three words to describe this comfort food vegetarian restaurant, located in the Northeast Heights and Downtown Albuquerque. Order a glass of the lavender lemonade served in a cute mason glass and soak up the farmhouse feel of the interior decor. 
The Burger
This burger patty doesn't contain meat, as it is a vegetarian restaurant, but don't be deceived by the label. This burger packs a flavor punch. A beet, black bean and quinoa burger patty is piled onto a locally-baked bun along with all of your favorite toppings, including green chile, should you so desire. Order it with a side of chips, which are house-made and delightfully crunchy! 
*Takeout and delivery at Heights location available