Highlining is an extreme task, perfect for those jonesing for big thrills and a gorgeous view. Like most adventure sports, rigging an inch-wide line of webbing between two cliffs and attempting to walk across it can hardly be considered a rational activity, but it's just one of the many offered by the beautiful and Sandia Mountains.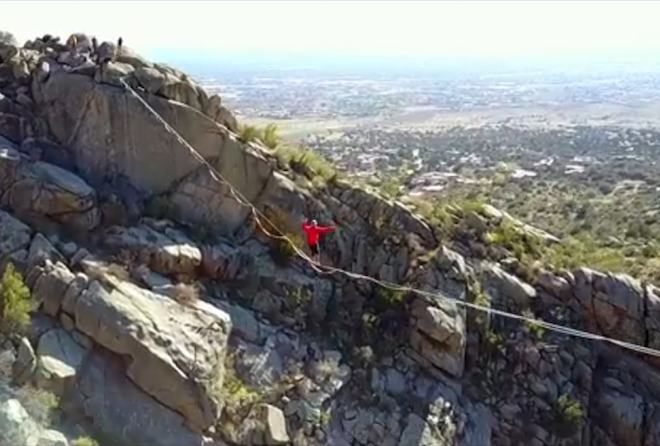 Slacklife New Mexico is a relatively small group, and those who take slacklining to the next level, highlining, are even fewer. I sit on top of the Sandia's with maybe eight other people as we take turns trying to send the highline we've rigged, each of us taking our share of falls. Crazy as it may seem to outsiders, we do take our time managing and reducing risks. Backups, multiple anchors, and a number of redundancies are always employed. Those of us brave enough to try the walk are attached to the line by a bungee leash and harness, so in case of a fall, we only fall a few feet until we are caught by the line. But none of these precautions do anything to ease the anxiety that builds from the extreme heights and seemly impossible task ahead.

Perhaps some of us are considered adrenaline junkies, others of us may actually be insane, but we're all out here for the same reason: to interrupt the monotony of everyday life. The heightened awareness and confrontation of fear along with meditation and simplicity that highlining can bring, is the escape each of us seeks up here, ten-thousand feet about the city.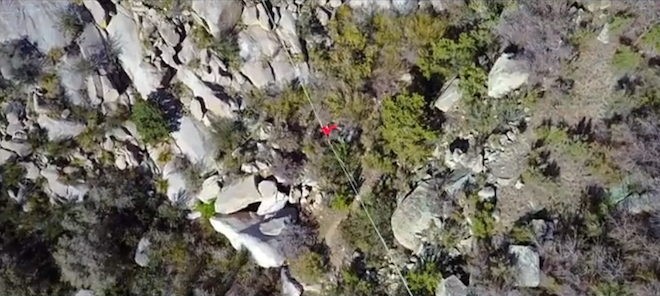 At just under an hour drive from downtown Albuquerque, Sandia Crest is easily accessible to those desiring a brief stent into the outdoors. A scenic byway off of Interstate 40 takes you on a beautiful winding road up the eastside of the Sandia Mountains. Transitioning from a desert grassland to an alpine forest in such a short drive is truly mesmerizing. Once you arrive at the crest, you experience a completely different environment than that of the city; the contrast is spectacular. Even on a winter day, this quick cruise is all it takes to transform your world into a wintry mountainous wonderland.

If one desires a different route to the crest, the Sandia Peak Tramway is another option. The nation's longest aerial tram offers an equally breathtaking ride to the top. 360 degree views above steep mountain canyons with vast cityscapes in the distance on a comfortable gondola equipped with large windows and an educated tour guide.

If balancing on a slackline thousands of feet above the city doesn't quite sound like your cup of tea, the Sandias have dozens of other outdoor activities to offer. Miles and miles of beautiful and unique trail systems offer opportunities for mountain biking, hiking, snowshoeing, and even rock climbing. These versatile Sandia Mountains also open up to skiers and snowboarders in the winter months for year-round outdoor adventure. These mountains prove to be a place of escape from reality, an opportunity to withdraw from the distractions and complications of everyday life. An outdoor-lover's playground, sitting right on our doorstep.