When it comes to authentic New Mexican cuisine, it's important to be outwardly opinionated and passionately fired-up, if you will. With a food culture that sets us apart from anywhere else in the world, Albuquerque natives and locals will spend hours debating the best places in town to acquire their red or green fix, and rightfully so! In the end, we're all winners of this heated debate. Here is a list of five of the top places to get your red and green chile fix in Albuquerque.
Duran's Central Pharmacy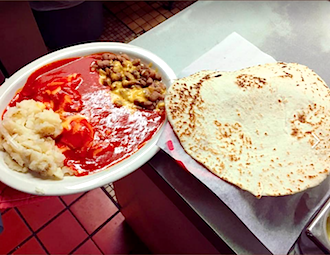 Just about any loyal red chile fan knows and loves Duran's Central Pharmacy. To access this quaint spot, you've got to make your way to the back of the local pharmacy. Once you've reached the entrance to the restaurant, the enticing smell of freshly frying sopapillas greets you and a friendly host escorts you back to a small table next to a tiled water fountain under a warm partially-covered patio. It is in this spot that you will order the best huevos rancheros you've ever set your eyes on, and if you do it right, they'll be blanketed in a bright red chile sauce and accompanied by a tortilla that clearly hasn't strayed from grandma's original recipe.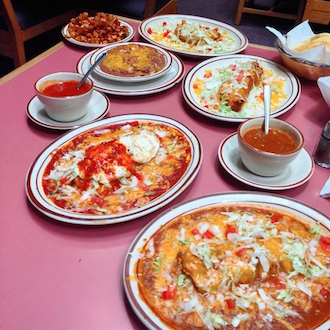 Are you hungry? Starving?? Good. Any one of the four Sadies locations will serve up a plate larger than your own head, swimming with the important things in life like cheese and red or green chile. Order the stuffed sopapilla and become a stuffed sopapilla yourself, or eat leftovers that heat up nicely for the next three meals. If you'd like to sample a bit more variety, order any one of their combination platters to try tamales, rellenos, enchiladas, and more! Even a la carte (without sides), these hearty dishes require a server with muscles and an eater with ambition.
If you're looking for a classic Albuquerque landmark, and beautiful traditional setting and ambiance in the glowing North Valley, you're going to want to make a stop into El Pinto Restaurant and Cantina. Order a pitcher of refreshing Silver Coin Margarita made with freshly squeezed lime juice, to share, and a rack of the red chile rubbed pork ribs. While ribs might not necessarily fall under the authentic New Mexican food category, the red chile the ribs are cooked in, certainly does. This restaurant has expanded many times since it's opening in the early 60's and can seat over 1,000 guests. The property features 5 different lush patios that open in the warm months to reveal extravagant gardens, and enclose during the winter months to include a cozy fireplace. El Pinto has always been, understandably, a tourist favorite. 
La Salita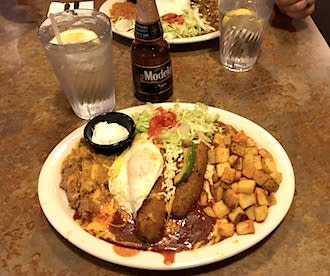 Have you ever had a chile relleno stuffed with fresh avocado? It's so indulgent and unexpected, well, you just might fall out of your chair. With an egg-less batter and indescribable richness in flavor, this dish caters to both vegans and omnivores alike. Stroll into this unassuming building to discover an inviting, cozy ambiance, friendly wait staff, and New Mexican cuisine done well. As you glance over the easyily navigable one-page front-and-back menu, munch on fresh corn tortilla chips accompanied by warmed green chile sauce that tastes just the right kind of salty, and sip on a crisp Modelo and lime, straight from the bottle. Make sure to order your dish smothered in both red and green chile, as the two are equally good enough to be featured as a duel act.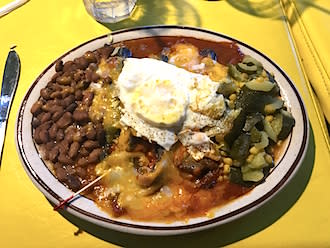 The floor will creak as the hostess guides you through the restaurant and back towards the twinkling string light, vine-covered wooden pergola covered patio where you will enjoy some of Old Town's most classic New Mexican food, but that's how you know you're in a timeless Albuquerque Old Town spot. Order anything on the menu, really, but make sure it's accompanied by their famous calabacitas, cooked to melt-in-your-mouth perfection, and a hot sopapilla, pulled fresh out of the fryer, and laden with honey. The green chile goes down easy accompanied by an over-easy egg on top, a dollop of cooling sour cream, and a full glass of their house-made sangria.
With so many incredible options for authentic New Mexican cuisine, it would simply be unfair not to include several honorable mentions:
Papa Felipe's Mexican Restaurant 
El Modelo
Casa de Benavidez 
Garcia's Kitchen
Cocina Azul
El Bruno's Restaurante y Cantina
Cervantes Restaurant and Lounge
Please put your hands together for every New Mexican restaurant in Albuquerque because together, they solidify the foundation for one of the most craveable food cultures in the world.