In musicals, Santa Fe is often a mythical place, where fed-up urbanites imagine all their problems will be solved, their hopes and aspirations realized. "Dreams come true, yes they do, in Santa Fe," Jack sings in "Newsies"; Collins, in "Rent," fantasizes, "We'll open up a restaurant in Santa Fe, and save from devastation our brains." (In "La La Land," on the other hand, Santa Fe is where one dreamer escapes from, to make it big in LA.)
Albuquerque, Santa Fe's southwestern neighbor, is a city of creative dreamers and performers itself. Albuquerque locals, also known as Burqueños, have a famously "young, scrappy and hungry" attitude--to borrow from another musical--and that attitude, combined with a profusion of creativity, is especially noticeable in ABQ's rich and varied theater scene. Numerous local theaters do first-rate productions of more well-known works; shout-outs to the Albuquerque Little Theater, the Popejoy and Musical Theatre Southwest for many a memorable evening. But today we want to give particular kudos to the innovators who go out on an experimental limb with the shows they put on. Below are some of the 505's most original theaters and troupes, boasting imagination and theatrical derring-do galore.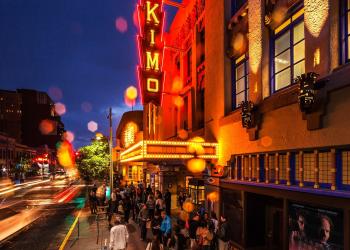 For Everything from Zombies to the Bard + Beer - With recent productions including "The Ugly Sweater Revue" and "Night of the Living Dead: From the Basement," Duke City Repertory Theatre consistently presents a heightened theatrical experience. Duke City Rep's experimental venturings took them beyond the confines of a theater recently for "Bard Crawl: Twelfth Night," during which actors performed an unrehearsed production of "Twelfth Night" in a different local brewery each week. In addition to providing high-value, cost-conscious theatrical experiences, promoting artistic dialogue and providing training, the company's mission is one we can definitely get behind: "promoting the beauty of New Mexico and its vibrant culture to both citizens and visitors alike."
Experimental to the Core - The Tricklock Company explains that it is "dedicated to the investigation of the human condition through group-generated, original theatrical experiments." Tricklock is widely recognized for its provocative productions, such as the Reptilian Lounge "late-night-debaucherous-fabulous" variety show. Tricklock hosts the Revolutions International Theatre Festival, now in its 17th year, an important festival that explores and brings together global theatrical approaches.
For Gut-Busting (Not Literal) Laughter - At the Box Performance Space, admire the rapid-fire wit of Albuquerque's improv troupes, such as Comedy? and The Show. The Alibi explains, "The differing experiences of The Show and Comedy? are representative of what has always made the various ABQ performing arts scenes unique--the willingness to experiment and be socially and politically conscious." Shows at The Box are 9 p.m. every Friday and Saturday night, and they often sell out (especially when Bob Odenkirk of "Better Call Saul" does a guest gig). 
For Gut-Busting Laughter, Part 2 - A relative newbie on the scene, Rumble Productions started in 2015 as a unique blending of improv, a capella singing and sketch comedy. Rumble hosts a dinner show called "Don't Pretend You're Normal," where you are kindly encouraged to "just be your strange, awkward, wonderful self." The company performs around town, collaborating with different businesses and artists--the traveling troubadours of the 505.
For a Totally Glamorous Evening Out - The next troupe just ended a 20+-year-run as a beloved member Albuquerque's theater scene; while they no longer perform, we wanted to give them special thanks for the years of spectacular shows. The Dolls' amazing self-description is as "the Southwest's most beautiful, talented and humble drag theater troupe." From 1996 to 2017, the Dolls delighted audiences with their movie spoofs ("Beware Uranus," "Disco Dracula"), Joan Crawford- and Marilyn Monroe-hosted Christmas shows, and original takes on classics, such as an all-male production of "The Women." Their final show, "Bewitched Bothered and Belittled"--a send-up of the TV show "Bewitched"--was held at UNM's Experimental Theatre X.
For Combo Classics-New-Works Repertoires - Fusion Theater Company (performing at The Cell Theatre), the Vortex Theatre and Aux Dog Theatre Nob Hill present mixed repertoires of classics and newer works, the latter of which often provide intriguing new perspectives. Vortex, in collaboration with the City of Albuquerque, also puts on free summertime Shakespeare productions during Shakespeare on the Plaza, in Albuquerque's Downtown Civic Plaza.