The Albuquerque Freakout: It's not a new dance craze, it's one of Tracy Jordan's favorite poker games.
Albuquerque plays a unique role in pop culture. It sounds kind of funny and is really hard to spell, but more than anything, Albuquerque has a mythical, someday-I'll-get-there kind of vibe. Those qualities—and ABQ's many other intriguing aspects—make our town a popular pop-culture shout-out, for everyone from the Partridge Family to T.I. Below are some of our favorites, arranged thematically.
A caveat: This list is far from comprehensive. Albuquerque gets a lot of love in pop culture, and we just couldn't include every shout-out. Also, with reluctance, we left some of our own favorites off the list (including "Breaking Bad," "Better Call Saul," Neil Young's "Albuquerque" and its beautiful cover by Iron and Wine), because we wanted to try to focus on the lesser-known gems. That said, if we've left off one of your favorite mentions, please let us know in the comments!
A Stopping Point on a Journey
Given its storied past as a railroad and Route 66 hub, it's not surprising that Albuquerque is widely portrayed as an important stop along a journey. Tiny Bradshaw, The Yardbirds, Led Zeppelin and Aerosmith all sang of stopping in Albuquerque in various versions of "Train Kept a Rollin'." Similarly, many artists have covered "By the Time I Get to Phoenix," written by Jimmy Webb and first recorded in 1966. The tearjerker tells the story of a man who leaves his lady. She doesn't realize he's gone for good this time: "By the time I make Albuquerque she'll be working." If she calls him, "she'll just hear that phone keep on ringin'." Artists who have interpreted the song include Glen Campbell, Isaac Hayes, Reba McEntire and Nick Cave.
If you're curious what it looks like to stop over in Albuquerque, check out the music video for "Meant to Be," by Bebe Rexha featuring Florida Georgia Line. The video was shot here and features the Route 66 classic Grandview Motel.
Albuquerque is also a crucial junction, which some have found out the hard way. Poor Bugs Bunny really should have taken that left turn at Albu-quoiky. The Fray clearly did not heed Bugs' mistake: They, too, miss their exit, in "48 to Go." They make the best of it by pulling over and enjoying our fabled sunshine. (Tim McGraw, on the other hand, gets stuck in a super-rare blizzard here in "Everywhere," but we doubt he minded the wait.)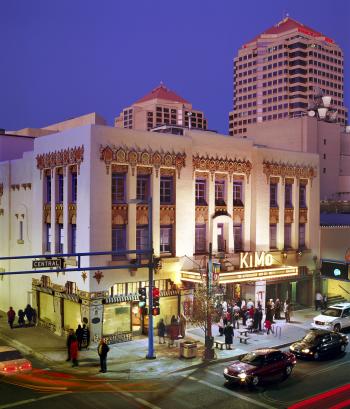 We're a popular touring stop, with venues like the 1920s Kimo Theater and the El Rey Theater, which was founded in the 1940s by Giacomo Puccini's cousin Luigi. T.I. sings of stopping in Albuquerque in "Bring Em Out." Lyle Lovett and Robert Earl Keen also sing their own Albuquerque namechecking songs:
"Drove from Albuquerque to Fort Smith, Arkansas" - "What I Really Mean," Robert Earl Keen
"Up near Albuquerque, he'll fuel and get some coffee" - "Nothing But a Good Ride," Lyle Lovett
A Destination Itself
"Point Me in the Direction of Albuquerque," the Partridge Family sang in the early '70s. Happy to oblige, David Cassidy. Just follow Danny and Edith in "Plan 9 from Outer Space" (1959, directed by Tommy Wiseau predecessor Ed Wood), though as Edith warns, "That's strictly a nine o'clock town." Interpret that as you will.
In addition to being a stop along the road, Albuquerque is a final destination, an urban oasis in the desert. Characters in the movies "Up in the Air" and "Rat Race" discuss flights to Albuquerque. On "How I Met Your Mother," Barney Stinson, played by ABQ native Neil Patrick Harris, burns us a bit with a dig about flight crews from Albuquerque: Bemoaning the decline in attractiveness of pharmaceutical sales reps, Barney frets, "Before you know it, pharma girls look like the crew on a Southwest Flight from Albuquerque to Little Rock." We obviously forgive and love you, NPH.
Finally, on a 1978 episode of "All in the Family," Edith Bunker tells Archie that "Old Mr. Bloomerer went west this morning." When Archie assumes she's using a euphemism for death, Edith clarifies that "he eloped to Albuquerque with his massage nurse," a.k.a. a "hooker with a thermometer."
Burqueños On Screen
Tons of amazing celebs grew up in Albuquerque: Demi Lovato, Marc Maron, Jesse Tyler Ferguson, Coco Austin. Tons of amazing fictional people also call Albuquerque home. Characters from Albuquerque include beautiful Linda English (Kim Novak) in 1957's "Pal Joey"; Chris McConnell in "Roxanne," the handsome face to Steve Martin's clever Cyrano; and Lucy's best pal Ethel Mertz on "I Love Lucy," portrayed by true ABQer Vivian Vance.
Two characters played by Amy Adams call Albuquerque home: Rose Lorkowski in "Sunshine Cleaning" and Sydney Prosser in "American Hustle," who is not as British as she wants to sound. Ryan Atwood's mom is a diner waitress here on "The OC": While Seth and Summer face more obstacles to their true love, Ryan heads to Albuquerque to invite his mom to his graduation.
So to answer Denise McBride's question on "In Plain Sight"—"Does anyone actually live in Albuquerque?"—ummm...yes, they do.
Albuquerque Conveniently Rhymes with Turkey
In "The Lady Is a Tramp," Ella Fitzgerald "never wished for turkey" while she "hitched and hiked and grifted too, from Maine to Albuquerque." (This category heading is cheeky, but this song is seriously the best, sung by the greatest.) "Tramp" debuted in 1937 in the musical "Babes in Arms," by Richard Rodgers and Lorenz Hart; perhaps the most famous version, by Frank Sinatra, dropped the ABQ-referencing intro.
House of Pain, in "House and the Rising Son," shouts out Nell Carter, Alex Keaton, Ray Charles, and the Duke City: "Like a country bumpkin from Albuquerque, who's gonna carve the turkey?"
Albuquerque Has It All
Per our pop culture shout-outs, here are some of Albuquerque's many attributes:
Classic vehicles, like the yellow VW bus in "Little Miss Sunshine"
Baseball. Our minor league baseball team, The Isotopes, was named in honor of "The Simpsons'" Springfield Isotopes, who Homer discovers might be moving to Albuquerque. Fortunately for Homer, the plan is abandoned, and the mayor of Albuquerque decides to instead bring the Dallas Cowboys to ABQ and make them play baseball.
Beef jerky: "Driving all the way from Albuquerque / Living on Funyuns and beef jerky" - "Juarez," Better Than Ezra. If you don't think the adjective "mouth-watering" can apply to beef jerky, just try local favorite Mike's. Then get back to us. 😋
Technology: The 1999 TV movie "Pirates of Silicon Valley" chronicles the early days of Microsoft, which Bill Gates and Paul Allen founded in Albuquerque in 1975. (Amazon's Jeff Bezos is also from Albuquerque.)
The arts! Okay, so the ABQ high school in "High School Musical" and the Albuquerque Opera Company bragged about by an aspiring performer in "The Producers" (1967 version, the original, the best) are not real, but the artistic spirit of our town most definitely is. (Operagoers, check out Opera Southwest instead.)
Top-notch journalism, worthy of the intellectual Brain of "Pinky and the Brain," who requests a copy of the Albuquerque Times in a 1996 episode. No disrespect to his smarts, but the Brain might have been better off requesting the Albuquerque Journal, as the Times appears to have ceased publication in the 1940s.
Thanks to local culture expert Shannon Jarvis for her research help!