If you are a traveling photographer and do not have Albuquerque on your list of travel destinations, get out your pen and mark it down! Albuquerque is an incredible city to photograph. The light and sky are different here. The city's high altitude, clear sky, spread-out population and over 310 days of sunshine each year make for some ideal shooting conditions. 
Sunrise
Wake up about an hour before sunrise and head west of the Rio Grande. For an incredible view overlooking the river with Downtown Albuquerque to the right, set up your photography equipment at Oxbow Bluff. This is my absolute favorite spot for sunrise. Park in the dirt lot at the end of Namaste Road (4801 Namaste Rd NW) and walk through the opening in the wooden fence to find the overlook facing east. This is also my top spot to take photos of the Albuquerque International Balloon Fiesta.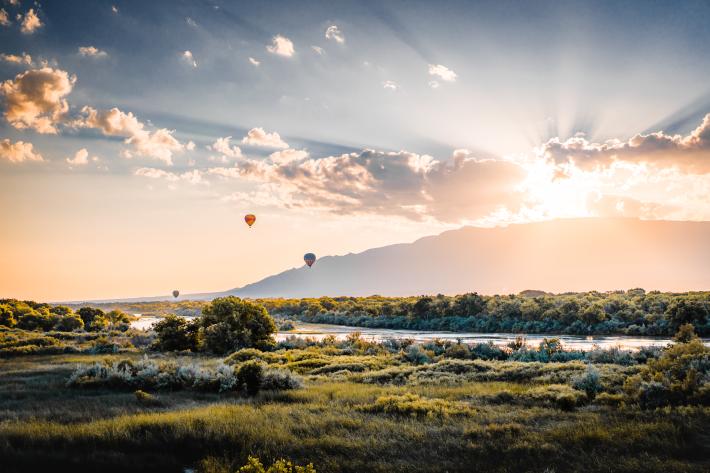 My second favorite place to catch an Albuquerque sunrise is at West Bluff Park (2408 Alamogordo Dr. NW). Since this park sits higher up and further south you get a much better view of Downtown Albuquerque. If you want more of an urban image that includes the city's skyline, West Bluff Park is the spot to go!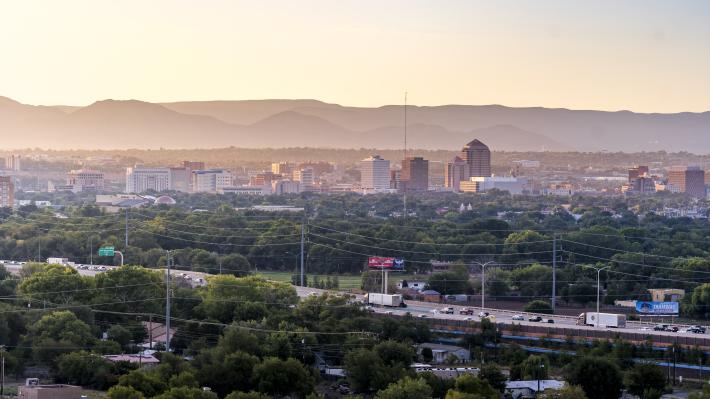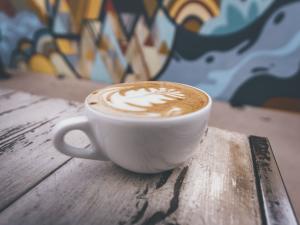 After an early morning sunrise send (photographer lingo for an adventure to take a photo) you will need some coffee as soon as you can find it, and a great place to sit and edit all the bangers (more photographer lingo for good photo) you just captured. While there is always a Starbucks nearby, I recommend heading downtown to a great local coffee shop and a comfortable place to work. If you'd like to take a look at some local art or sit on a cool patio while you work, Zendo Coffee is the place to go!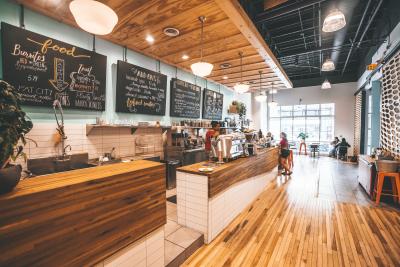 Additionally, you have a good chance of running into a cute dog (due to the connecting apartments above) along with a comfortable place to sit and outlets to charge your devices at another one of my recommendations, Humble Coffee Downtown.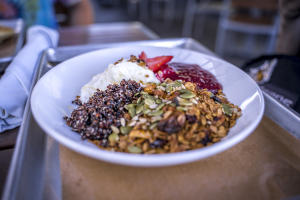 In the likely situation you need some food after the caffeine fix, you're in luck! Two of my favorite places to grab breakfast or lunch are within 10 minutes of Downtown Albuquerque. For a meal that will leave you feeling better about yourself, head east on Central Ave. to The Grove. This cafe and market offers some great, fresh breakfast opinions in a beautifully designed restaurant. I highly recommend anything with poached eggs! 
If you want to eat like you are on vacation and fully experience New Mexican cuisine, head further east on Central Ave. to The Frontier. This is an Albuquerque landmark and local staple. The Frontier has traditional New Mexican dishes such as green chile stew and smothered burritos. New Mexico is the only state with a state question, "Red or Green?", which you'll hear often at The Frontier. A Frontier menu-must is a warm, sweet roll. Eat if before your food comes out, just like the locals! This is a unique version of cinnamon roll that will melt in your mouth. Pro tip: Eat the roll within 5 minutes of receiving it. 
Sunset
After an inevitable mid day nap, which is a staple in any photographers routine, it's time for the sunset! New Mexico is one of the places where you are more likely to experience and capture an insane burn (more photography lingo for a brightly colored sky) than not.  If you want to take photos over Downtown Albuquerque and also enjoy a very well made adult beverage, head to the Apothecary Lounge. Situated on top of Hotel Parq Central, this is not only my favorite bar in the city but also my favorite view of Downtown at sunset. Order yourself an old fashioned or a local beer, find a seat with a view (they all have views) and enjoy the most relaxing sunset shoot of your photography career! Photos are allowed here, but I recommend asking one of the bartenders in case of some special event or circumstance.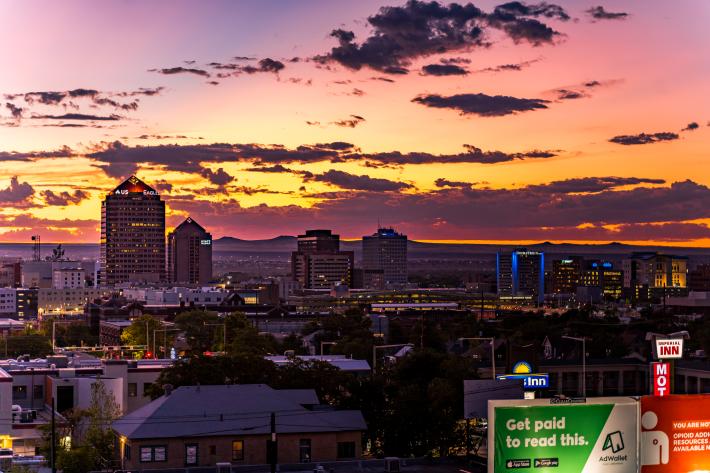 At this point you may be thinking, "Ian, every city has coffee shops and rooftop bars. What is something truly unique here in Albuquerque?" Well, I'm glad you asked, kind soul! My absolute favorite place to photograph a sunset in all of New Mexico is atop the Sandia Peak. From an elevation of 10,000 feet, you'll get a panoramic view of the lights in the city below and the sun setting behind the ancient volcanoes in the west. The view alone is worth it, but to reach the Peak, you'll also get to travel on the second longest aerial tramway on the planet! Not good enough yet? Well, at the top sits the brand-new Ten3 restaurant and bar.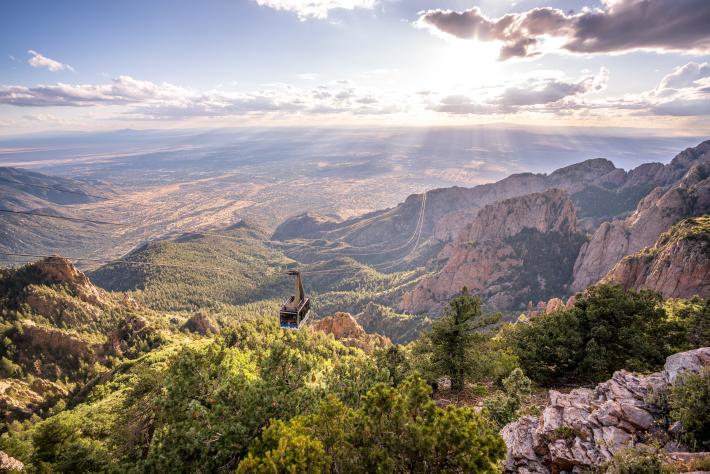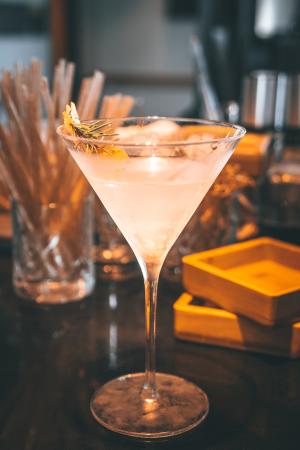 Ten3 offers amazing food and drinks with an unparalleled view of the sunset. Dinner reservations are required to dine in the main restaurant, but the bar does not require a reservation and offers its own menu and unique drink selection. I personally recommend the Alpine Martini.  
According to bartender Hailey Fortin, "The combination of incredible views over the city and selection of food and drinks has really left an outstanding experience with all our guests. This is far and above anything else available in Albuquerque."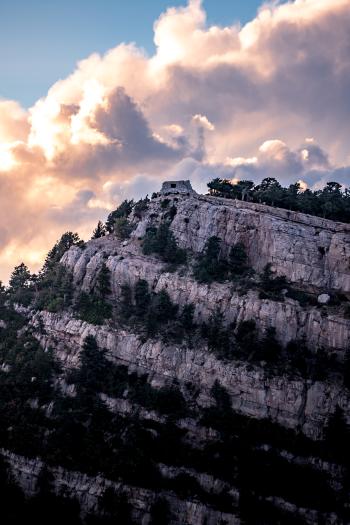 You'll have an incredible view from Sandia Peak at any time of day, so don't be afraid to explore and find a unique composition. If you are feeling a little adventurous and you've got at least an hour of daylight, take the mile-long hike north on the ridge to Kiwanis Cabin. This old stone cabin has my absolute favorite view of anywhere in New Mexico. 

With its unique culture, food and landscapes, Albuquerque is guaranteed to be a memorable trip for anyone visiting. So when packing your bag, don't forget to grab your camera and explore everything Albuquerque has to offer.