One of the greatest things about visiting or living in Albuquerque is how bizarre it can be. Walking around downtown ABQ or biking along the Rio Grande, you can expect to always be surprised by what you've encountered--whether it's museum-worthy street art or a porcupine ambling across your path.
Austin, Texas, may have the motto "Keep Austin Weird," but Albuquerque's weirdness is built into its name! As any Burqueño will tell you, Albu-quirky is the place to be. Its quirkiness is just one reason why Albuquerque is a draw for millennials, who also visit or move to ABQ for its affordable cost of living, creative culture, nearly perpetual sunshine, diversity and lack of pretension.
Although part of the joy of Albuquerque is discovering its weirdness on your own--in the vein of those early Wild West adventurers who had no idea what was around the corner--we wanted to give you a taste of Burque's most unforgettable, unlike-anywhere-else experiences. In no particular order, here are five of the quirkiest things to do in Albuquerque.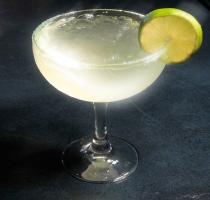 Drink cocktails with ingredients like green chile tequila. The Apothecary Lounge cocktail La Llorona, named after the murderous ghost said to haunt various regions of New Mexico, has green chile tequila as its base liquor. Apothecary's creativity doesn't end there; try the bright-purple prickly pear margarita or gin-and-absinthe-based Corpse Reviver. Other favorite local beverages include the kombucha mimosa at The Grove and the pickle martini at Broken Trail Spirits and Brew. 
Hike to the ruins of a plane crash from the 1950s. Many decades after the 1955 crash of TWA Flight 260 in the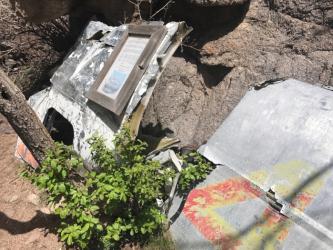 Sandia Mountains, plane wreckage still remains nestled among the trees, just below the pathway of the Sandia Peak Tramway. The seven-mile hike to and from the wreckage is a moving and profound experience. (The trail is not officially maintained and should be followed with caution.) Another hike we love is the short half-mile trek to the controversial Sandia Man Cave--a cave where artifacts of the prehistoric "Sandia Man" were believed to have been discovered, not a man cave bachelor pad in the Sandia Mountains. 
Do yoga with pigs...or goats. Tequila Barbie is an Albuquerque celebrity. The mini pig joins yogis during Sunday-morning yoga at favorite local restaurant El Pinto. Or try goat yoga--literally, yoga with goats--at the Wildlife West Nature Park in Edgewood, New Mexico, just east of Albuquerque. Not only do you get to cuddle with goats during child's pose or let them walk on your back during plank pose (!), but you're contributing to a good cause: Goat yoga benefits the nonprofit Wildlife West. (You can also do brewery yoga at the Red Door Brewing Company--fewer animals, but just as fulfilling.) 
Drink beer and eat organic nitrogen ice cream in shipping contai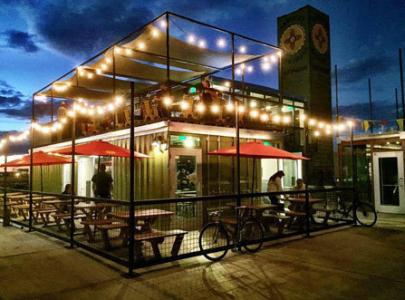 ners. At Green Jeans Farmery, find all of life's essentials: tacos, whiskey, Neapolitan pizza, world-famous sandwiches (from Bocadillos, featured on "Diners, Drive-Ins and Dives"), ice cream, coffee, beer and more. Hang out with friends at this funky venue built out of repurposed shipping containers. It's also the perfect spot for a post-climb beer after spending time at the Stone Age Climbing Gym, just down the street. (The foods and drinks mentioned above are from, respectively, Rockin' Tacos, Broken Trail Spirits and Brew, Amore Pizzeria, Bocadillos, Nitro Fog Creamery, Epiphany Espresso and the Santa Fe Brewing Company.) 
Shop for fresh pro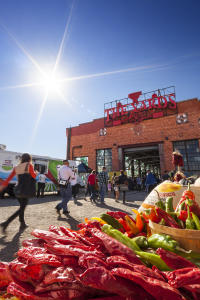 duce in a historic railyards complex. The Rail Yards Market brings together local artisans, farmers, healers and more, all under the roof of a structure built in 1880. The railyards were established by the Atlantic and Pacific Railroad, although most of the buildings were constructed by the Atchison, Topeka & Santa Fe Railway between 1914 and 1924, following the ATSF's absorption of the A&P. The facility, where steam locomotives underwent maintenance and repairs, employed a quarter of Albuquerque's workforce by 1919. The state's largest historic industrial complex is now a hub of a different sort: for creativity, inspiration and amazing locally grown produce.