With Albuquerque's setting at the foot of the Sandia Mountains and with the Rio Grande running through the city's center, nature is a huge part of the ABQ scene.  The high-desert environment makes for some pretty unique plants you might not see in many parts of the country. Check out these five plants you will see everywhere in Albuquerque among the many places to explore nature in the area.
1. Desert Willow
This small multi-trunked tree can be seen all around ABQ as it thrives in the desert landscape of the region. It is a flowering tree that can reach up to 25 feet in height at maturity. Despite its name, the Desert Willow is not related to the Willow tree but does have some of the same drooping characteristics. The tree is easy to spot in the area with its dark pink or purple blooms that arrive in the summer. The flowers are trumpet shaped and hang down off of small branches. You'll notice Desert Willows being used in landscaping as well as a privacy border when grouped together.
2. Lavender

This Mediterranean based plant loves dry soil and hot sun conditions, making it a perfect match for the Albuquerque area. Lavender is a heavily used plant that requires little maintenance and enjoys little watering. Spanish and French Lavender are popular variations used in the area as well. The dark purple flowering stems of the plant attract many area pollinators which helps to support the local environment. The lavender bush is great to ground cover or to use along borders for instant color. You can see the beauty of Lavender all around the area as it grows as an annual in hot desert climates.
You can even explore, stay, eat and shop on a local lavender farm right in the city. Los Poblanos Historic Inn & Organic Farm is a great place to get your lavender fill.
3. Yarrow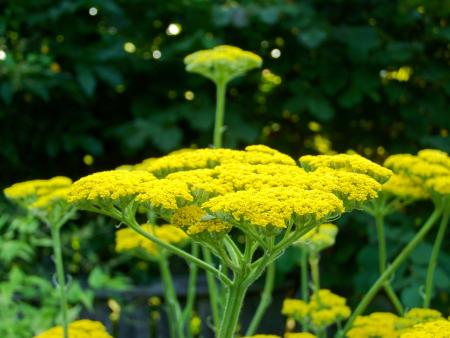 Commonly known as plumajillo, or little feather, Yarrow is a commonly found plant in New Mexico. It is a hardy perennial plant that has beautiful flower heads in a wide range of colors such as yellow, pink, and red. The flowers blooms in small clusters that pack a punch of color to the desert landscape of Albuquerque. The flowers attract butterflies making it an important part of the ecosystem. It is incredibly drought resistant and doesn't have many problems with pests either. Yarrow is known to have many medicinal properties making it a very popular plant. You'll see Yarrow in cultivated gardens as borders and ground covers. Around town you can also see it growing wild in open meadows and along roadsides.
4. Dwarf Pampas Grass
As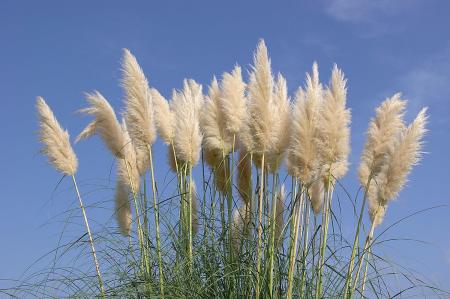 a native grass in ABQ, Dwarf Pampas Grass likes to put on a show as an ornamental grass. You can easily spot this plant in the middle of summer with its big fluffy blooms of white plumes that sit on top of slender stems. The plumes blow in the wind making this a plant that adds a lot of movement to the dry desert region. Despite its dramatic flair, Dwarf Pampas Grass is a tough plant that has little issues with maintenance or pests. It can be found in the area planted in beds or along fences as well as in nature where it enjoys sunny conditions and is usually found in a group of grass as it is great at spreading. 
5. Havard Agave
As a very popular native plant in the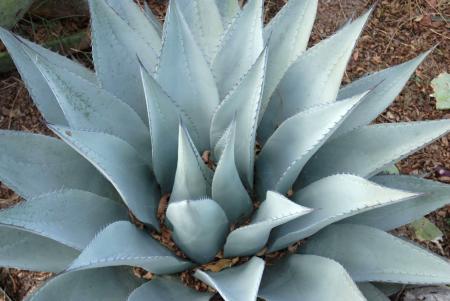 high desert region of New Mexico, Havard Agave can be seen all around the Albuquerque area. It is a unique looking robust plant with silver cactus looking leaves. The plant has an overall rounded shape with the leaves being formed out of the tight rosette found in the center of the plant. Havard Agave can grow up to 3 feet tall and 4 feet wide at maturity making this a great plant to add variety to a garden. It enjoys lots of sunshine at higher elevations and can handle colder weather as well. You'll notice Havard Agave in all around the area for borders and ground cover that require little to no maintenance.
You'll find a wide variety of plants in the high desert landscape of Albuquerque. From flowering trees to desert loving shrubs to beautiful flowers there are always interesting plants to see in the region.
If you want to check out even more plants on your next visit to Albuquerque, some great places to go are the ABQ Bio Park Botanic Gardens, a walk by the Rio Grande on the Bosque Trail, or a hike or picnic in the foothills of the Sandia Mountains.