Up north, the Rio Grande rushes through rapids, but through Albuquerque, it runs low and slow. Here are a few ways to cool off on the waters this summer in the Duke City:
Quiet Waters Paddling Adventures
Stand Up Paddleboarding (SUP) is one of the fastest growing water sports in the country. Once done only on the oceans and in coastal areas such as California and Florida, the sport is coming inland to lakes and rivers. Done standing on vessels similar to long-board surfboards with paddling techniques borrowed from solo canoeing, SUP is easy to pick up and offers a full-body workout. Quiet Waters offers guided SUP trips, classes at fundamental and advanced levels, as well as rentals and self-guided adventures (that include the rental and shuttle to and from the river.) Quiet Waters also guides kayak and canoe excursions, including during the Albuquerque International Balloon Fiesta.
You can turn your technique-and balance challenge-up a notch with SUP yoga, which Sol Board Sports offers at Cochiti Lake.
Sol Board Sports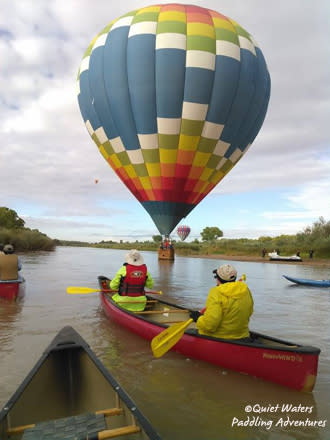 This one-stop shop for paddle sports offers guided, half-day SUP tours along the Rio and beginning windsurfing lessons at Cochiti Lake, about an hour northwest of Albuquerque close to Kasha-Katuwe (Tent Rocks) National Monuement. It's a perfect day trip from Albuquerque! 
Southwest WindSports
Although this outfitter specializes in windsurfing (more on that in a moment), the company also offers group and private SUP lessons, and gear to purchase. Their excursions may be along the Rio Grande or in a nearby lake such as Cochiti. If you're up for a wind-powered water sport, the company leads full-day introductory programs in wind surfing. Coaching is available for those with a bit more experience. These excursions venture to locales such as Elephant Butte Lake State Park, roughly 2 hours south of Albuquerque.
New Mexico Kayak Instruction
Kayaking allows you to relax and enjoy the outdoors, but it can also be great cardio-vascular exercise. This local company offers classes and clinics in whitewater and sea kayaking, rentals and equipment sales. Plus, the company offers guided Balloon Fiesta® kayak tours. During these trips, you'll float down the river, with hot air balloons floating in the skies-and perhaps splashing and dashing (touching down on the water)-around you. 
For more information and a full list of water adventures options in Albuquerque and throughout New Mexico, head to our rafting, canoeing, and kayaking page.    
Bonus:
A few hundred feet from the river shore, ABQ BioPark's Tingley Beach offers grassy knolls and fishing ponds. At Central Pond, families and couples can rent pedal boats for two to four people for a leisurely foot-powered trip across the waters.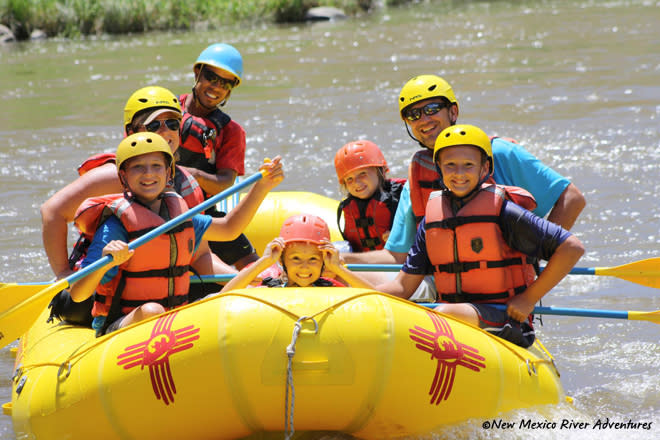 Use the hashtags #ThingsToDoABQ and #ABQevents to join the conversation about things to do in Albuquerque on social media, and subscribe to our ABQ365 email newsletter by clicking below!