With a more than three-hundred-year history, Albuquerque has a storied past-much of it mysterious and some of it down right creepy. Get the Ghostbusters on speed dial...here's who has the 411 on the ghosts of 'Burque!
Albu-Creepy Downtown Ghostwalk and Trolley of Terror
During the day, Downtown is a business and government center, and Albuquerque Trolley Co. (now known as the Albuquerque Tourism & Sightseeing Factory) is busy driving passengers to the city's marquee attractions. When the sun sets, each has an alternate identity: Downtown becomes a spooky setting for the company's AlbuCreepy 90-minute walking tours. Departing from Hotel Andaluz on Friday and Saturday evenings year-round, the tours visit the neighborhood's darkest corners, sharing macabre stories about hangings, duels, and the boiler explosion that took a young man's life at the KiMo Theatre. In October, the guys rev their stucco-covered people-hauler for the Trolley of Terror, to transport passengers to buildings normally off limits to the public and known for paranormal activity. 

Haunted Bike Tour
Routes Rentals & Bicycle Tours of Albuquerque leads this tour de frights only on Halloween evening. This once-a-year tour is well worth the wait. Departing from Old Town, expert local guides lead participants through this neighborhood and down the Paseo del Bosque path, sharing tales of New Mexican folklore that have been passed through generations and the ghost stories that raise the hairs on the back of riders' necks. The bike tours are open to adults and older children (those 12 and up) and covers eight miles of moderate terrain during nightfall spanning two-and-a-half hours.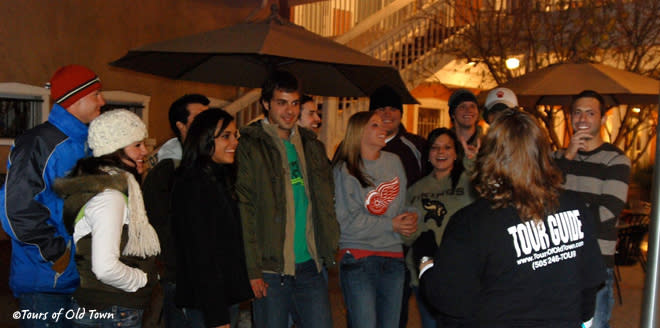 Ghost Tour of Old Town
Old Town is Albuquerque's oldest neighborhood-and with that comes more than three centuries of legends, lore-and tales of hauntings by ghosts both mischievous and malicious. Led by the experts of History and Ghost Tours of Old Town, these 90-minute walking tours depart from Don Luis Plaza and guide attendees past the sites of Albuquerque's first cemetery, hanging tree, and other spooky locales. During the multi-media presentations, walkers will also see evidence of otherworldly activity the Southwest Ghost Hunters Association captured. If all this talk of poltergeists has participants wanting to buy their own spectrometers, they can join that hallowed group, a scientific-based organization whose local chapter travels the state investigating paranormal activity.
Use the hashtags #ThingsToDoABQ and #ABQevents to join the conversation about Albuquerque events on social media and subscribe to our ABQ365 email newsletter by clicking below!