Travel + Leisure touts Albuquerque in their carefully-curated list of the 50 Best Places to Travel in 2018 alongside other top destinations from across the globe, only 9 of which are located in the U.S.
It comes as no surprise that 2018 is pinned as the time to visit, as Albuquerque has a bright year ahead. In no particular order, here are 18 reasons to travel to Albuquerque in 2018:
1. Soar through mountains on the Sandia Peak Aerial Tramway
Go soaring up the side of the majestic Sandia Mountains in a gondola of the Sandia Peak Aerial Tramway and see this breathtaking sierra in a way that cannot be seen otherwise. When you reach the stunning viewpoint atop Sandia Peak, don't forget to snap a photo and pause for a blissful moment of Zen. Stretch your legs and breathe in the fresh mountain air as you take a short hike along the top and enjoy the views of the city from over 10,000 feet. The tram reached its 50th anniversary in 2016, and celebrated with a fresh set of shiny, new tram gondolas. Don't forget to enjoy a sunset and a freshly-made margarita at Sandiago's Grill at the Tram when you reach the bottom once again!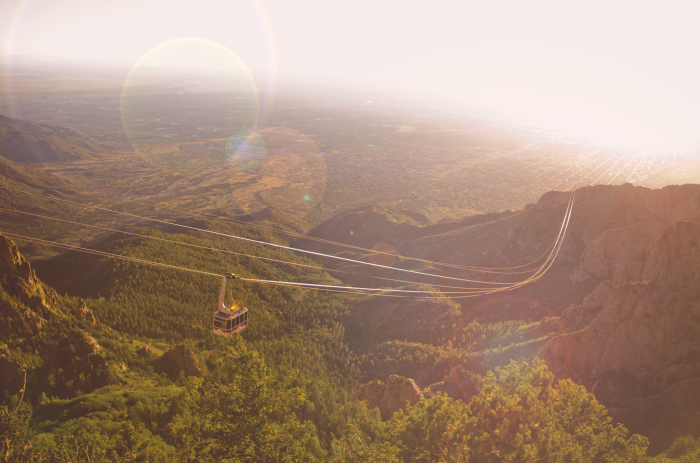 2. Sip on Albuquerque's local liquid flavor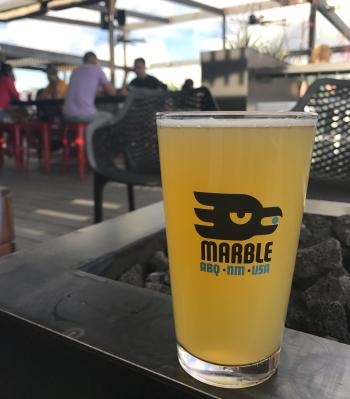 When it comes to liquid tourism, Albuquerque does not shy away from being one of the best. The city's local brewing scene continues to boom, now with more breweries and taprooms per capita than Portland. Some of the city's top breweries have brought home big-time medals at some of the world's most prestigious competitions. Taste New Mexico's take on dry hops with a pint of the Elevated IPA from La Cumbre. If hops aren't quite your speed, try a tall glass of the perfectly light and spicy Double White from Marble, or a deeply bold and malty snifter of Bosque's Scotia. To perfectly compliment the craft brewing scene is a well-established and dedicated cluster of local wineries producing incredible flavors and respectable vintages. Order a glass of the Blanc du Noir at Gruet and bring home a bottle of the 2016 Viognier or the 2014 Meritage from Casa Rondeña. If you're looking for something to add a little pep in your morning step, treat yourself to one of the hip local coffee spots. You'll have plenty of options, as more seem to be popping up by the week and are pouring a variety of forwardly flavorful coffees in all of the new and trendy ways. Try a soul-warming cortado at Zendo, or a perfectly-poured red chile mocha at The Brew. 
3. Book a stay at one of Albuquerque's newest and most recently expanded luxury hotels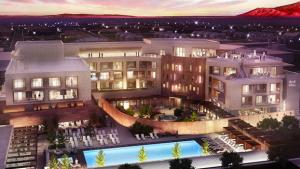 Albuquerque's newest luxury hotel, built from the ground up, is now open. Hotel Chaco features modern architecture and design inspired by the authentic Pueblo style reminiscent of Chaco Culture National Historical Park and provides an experience that is unique to the Albuquerque area. The rooftop restaurant and lounge, Level 5, welcomes locals and visitors, and provides them with a front row seat for the mountains as they light up in a bright pink at sunset, living up to their true "watermelon" namesake.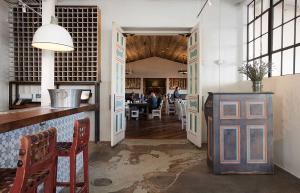 Additionally, Los Poblanos Historic Inn & Organic Farm has finalized their expansion and renovation of their old dairy barns. The Inn now houses guests in 50 rooms and suites, and features new restaurant, Campo, along with a freshly updated Farm Shop to provide lavender-lovers with their one-of-a-kind, homemade products and gifts in setting suited for any minimalist. 
4. Witness authentic flamenco at the weekly Tablao Flamenco series and the annual Flamenco Festival
If your heart yearns to feel the floor shake from the spirited stomps of a flamenco rhythm, your search is over. Albuquerque is one of the only places in the world in which you can experience authentic flamenco every single weekend. The intimate setting in which flamenco is performed is called a Tablao and can be found in a small corner of Hotel Albuquerque at Old Town. Guests are seated closely around the wooden stage that features classically-trained dancers, guitarists, and other musicians from the National Institute of Flamenco and can enjoy small Spanish plates called tapas and regionally-inspired cocktails, representative of what you'd find in a typical restaurant in Spain. Additionally, the largest flamenco festival that exists outside of Spain itself, the Festival Flamenco Internacional de Albuquerque, takes place each June in the heart of Albuquerque, bringing over 50 world-famous flamenco groups to perform, teach, and celebrate this heart-felt and thriving art form. This year's event will take place from June 9 - 16.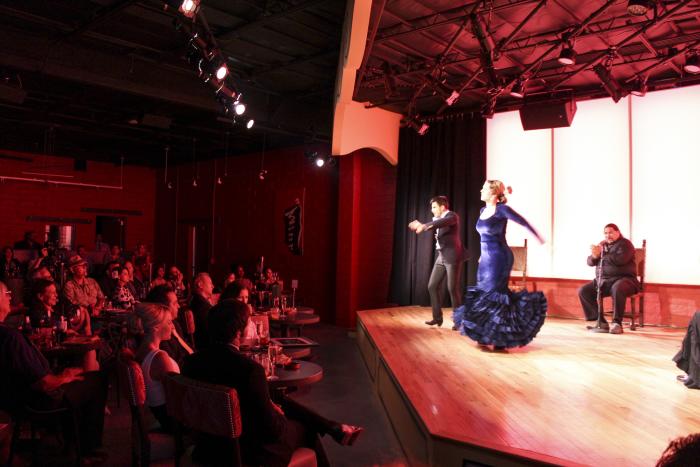 5. Visit the new otters and penguins at the ABQ BioPark Zoo
Come January of 2018, the ABQ BioPark will proudly welcome two new species whom have never visited the Land of Enchantment before - penguins to the Zoo, and otters to the Aquarium. These expressive and curious creatures are sure to be a hit with the whole family.
6. Taste local flavors - order your food "Christmas-style"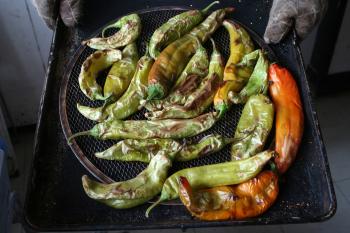 Our state question is "red or green?" Albuquerque's local cuisine is heavily inspired by a certain chile pepper that grows regionally and is either roasted over an open flame, peeled, and seeded (green chile) or dried, cooked, and blended with spices (red chile). Locals and visitors alike enjoy their authentic New Mexican food -- which has evolved over the years from Mexican, Hispanic, and Native American influence -- smothered in either red or green chile, and in some cases, both. Ask any local for their preference and prepare yourself for a "heated" and passionate response! You won't find cuisine like this anywhere else in the world. 
7. Discover Albuquerque's newest international exhibits - National Hispanic Treasures and Da Vinci, The Genius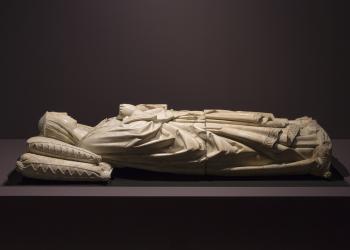 Cultivate your historic curiosity at the Da Vinci, The Genius exhibit, hosted by the New Mexico Museum of Natural History & Science from February 1 through July 29, which caters to both the novice and the expert and is the most comprehensive traveling exhibition of Leonardo Da Vinci ever assembled. Additionally, Albuquerque is honored to be the first city in the United States to host the Vision's of the Hispanic World: Treasures from the Hispanic Society Museum & Library exhibit at the Albuquerque Museum, which will feature over 200 historic pieces of artwork and artifacts from the Hispanic Society of America, some of which are over 3,000 years old. This exhibit opens on November 10 and closes on March 31, 2019.
8. Hop through four unique entertainment districts in an all-electric Rapid Transit System
As the 2018 year kicks off, Albuquerque Rapid Transit will begin running their new all-electric rapid transit system to connect people to the places they love. Be one of the first to take a ride and make as many stops as you'd like in a series of four different entertainment districts along historic Route 66's Central Avenue - Historic Old Town, Downtown, Midtown/University, and Historic Nob Hill. Albuquerque Rapid Transit is the first-ever bus rapid transit system in the U.S. to receive the coveted Gold Standard from the Institute for Transportation and Development Policy, the highest internationally recognized standard for BRT systems and is expected to reach full functionality in 2018.
9. Experience the The Albuquerque International Balloon Fiesta®
Discover why the Albuquerque International Balloon Fiesta® presented by Canon is the most photographed event in the world as hundreds of brightly-colored hot air balloons inflate before your very eyes and fill Albuquerque's big blue sky. This world-renowned event brings travelers, hot air balloon pilots, and enthusiasts from all over the world. You're going to want to clear up some extra memory in your iPhone for this one!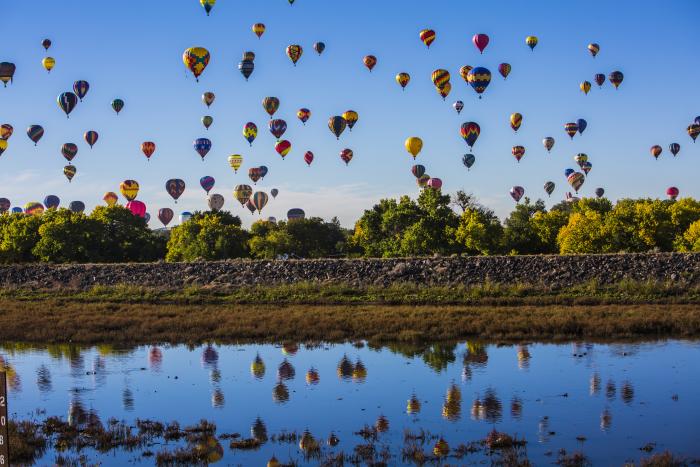 10. Take a bike ride on Albuquerque's new 50 Mile Activity Loop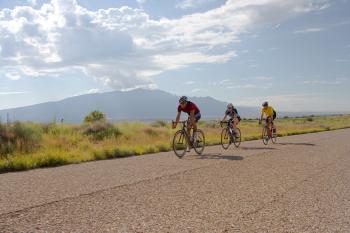 Bicyclists, runners, roller-skaters, and walkers alike will delight at the city's new 50 Mile Activity Loop that circles the perimeter of the city, taking you through historic neighborhoods and alongside sweeping mountain vistas. Small "mini loops" will be available to those looking for a shorter stent, and some of Albuquerque's best restaurants, breweries, and shops will be accessible along the way. This activity loop will soon reach completion and provide outdoor enthusiasts with the playground of their dreams. 
11. Celebrate music at some of Albuquerque's greatest festivals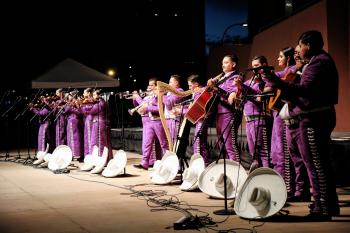 One of Albuquerque's most passionate and festive traditions takes life during the annual Mariachi Spectacular. With each growing year, this event brings the world's best mariachi musicians and dancers to grace the stage with an art form that is undoubtedly contagious. Additionally, last year was the first year the festival added Ballet Folklorico to its vibrant repertoire. The event taking place from July 11-14, includes classes, workshops, and several evenings of spirited and colorful performances that give authenticity to the title word - spectacular.
Listen, learn, dance, and celebrate world music at ¡Globalquerque!, a two-day festival in September that brings the world's unique and inspiring art forms to Albuquerque. In addition to several multi-stage performances in the evenings, the festival offers workshops teaching attendees about instruments, dance, and world culture during the day. 
SOMOS ABQ is an exciting block party-style celebration in downtown Albuquerque, bringing together all of the best that the city has to offer. From life-size art to flavorful food, and craft beer to technology -- not-to-mention five stages of big name musical artists -- this event has something for people all ages, interests, and tastes. Last year's event featured main-stage artists Dillon Francis, Minus the Bear, Deltron 3030 and more! Mark your calendars for August 25!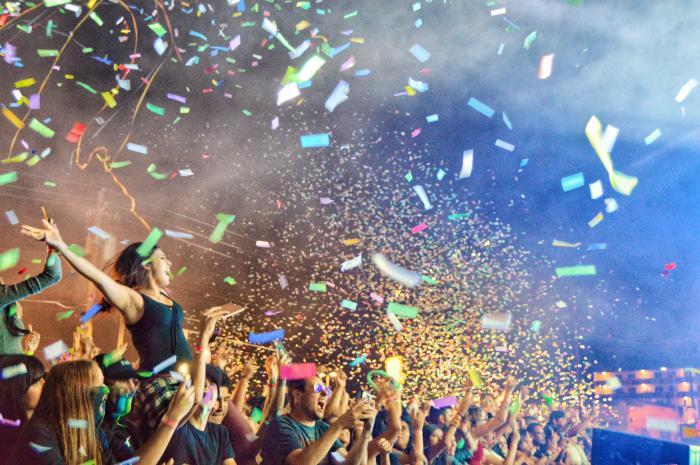 12. Explore the continued transformation of the Sawmill District
Make yourself comfortable in the Sawmill District's newest additions! From craft beer and retail to art and urban living, this former lumber distribution center is continuing to transform into a hub for shopping, entertainment, and more. Shop for a high-desert, minimal aesthetic at the recently-opened Spur Line Supply Co., providing swoon-worthy retail items for men, women, children, and your home.
13. Learn about Albuquerque's Native American culture and Spanish heritage at these two nationally-ranked cultural centers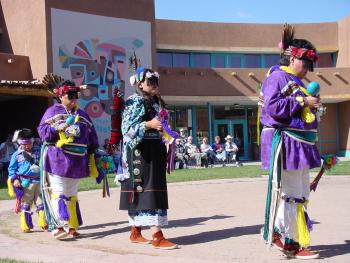 Learn about the rich and thriving cultures that help to make up Albuquerque's unique heritage. At the Indian Pueblo Cultural Center, educate yourself on the 19 Pueblos of the surrounding area and experience a taste of their culture and heritage with weekly traditional Native dances, handmade Native American silver and turquoise jewelry, and carefully crafted dishes at the Pueblo Harvest Cafe comprised of ingredients sourced from each of the Pueblos. Take a step further and deepen your understanding of the city's Hispanic cultural heritage at the National Hispanic Cultural Center, featuring an art museum, state-of-the-art performing arts complex, library, and genealogy center. Keep an eye out for can't-miss events at these world-class facilities. 
14. Cheer on high-caliber athletes at Albuquerque's brand new Jennifer Riordan Spark Kindness Sports Complex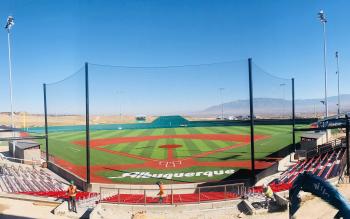 The brand-new Jennifer Riordan Spark Kindness Sports Complex features five baseball/softball fields that will be home to some of the nation's most nail-biting and exciting tournaments and showcases! The complex's grand opening came accompanied by special guest, Albuquerque home grown Alex Bregman from the Houston Astros, who expressed sincere hope and positivity in regards to what the new complex would do for the future of baseball and softball in the area. 
15. Enjoy the continuing evolution of downtown, making Albuquerque the place to meet
In early 2018, Albuquerque's Civic Plaza will finalize an exciting new facelift complete with interactive water feature, stage with ampitheater-style seating, and vibrant sound system. The plaza sits just west of the city's newly-renovated convention center and provides the perfect setting for locals, visitors, and convention attendees to socialize and soak in Albuquerque's more than 310 days of soul-warming sunshine. 
16. Find entertainment in the newly developing Winrock and ABQ Uptown area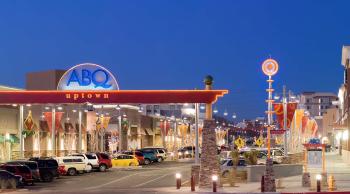 Shoppers rejoice! Take a day and treat yourself in the newly developed shopping and entertainment area that is ABQ Uptown and Winrock Town Center. After a few hours of browsing through the North Face and Pottery Barn, play a few games with friends at Dave & Buster's before catching that new movie you've been dying to see at the IMAX and RPX theaters. If the shopping bug hasn't subsided, continue the shopping spree across the street at Albuquerque's Coronado Center where you'll find your perfect shade of terra-cotta lipstick at Sephora or encounter organizational bliss at the Container Store along with so much more. 
17. Come together at one of the world's largest Native pow wows, the Gathering of Nations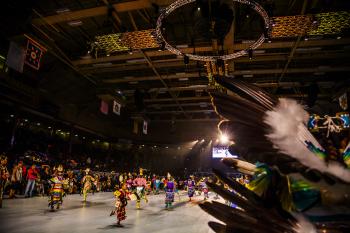 Experience an international event where Native people from all over the globe come together to celebrate culture, heritage, and a way of life. This expressive Pow Wow allows for Native people from each respective nation to share their story with others, educate younger generations on practices and traditions, and ignite curiosity within those who want to learn more. The occasion includes traditional dance competitions, pageantry, Native food, music, and more welcomes both Native and non-Native visitors alike to attend the events.  
18. Watch Albuquerque come alive on the big screen
Albuquerque proudly welcomes film-makers, producers, actors, visionaries, and fans alike. The last decade has proven that Albuquerque is an ideal destination for those who have a big screen dream that needs to be brought to life. For the first week in June, the Albuquerque Film & Music Experience brings film-makers, musicians, artists, and entertainment entrepreneurs together for the purpose of networking and collaborating. To add, this year, the city will celebrate the 10-year anniversary of the AMC Network Production and worldwide Netflix sensation, Breaking Bad. With a number of different fan favorites that have been filmed in Albuquerque, visitors can stop at all their favorite recognizable spots along the way.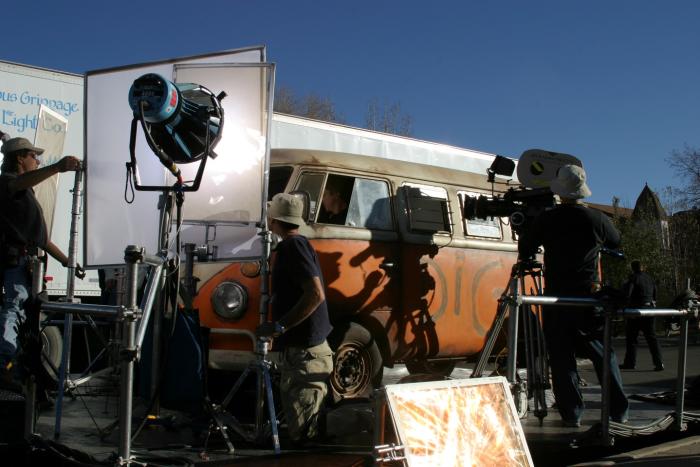 With all that Albuquerque has to offer for 2018, your next vacation already has a destination. Order your 2018 Visitor's Guide today and start planning now! Whatever it is that excites your mind, body, soul, and senses, Albuquerque is yours for the loving and promises never to leave you without a thrill or new experience -- and certainly not without a view.